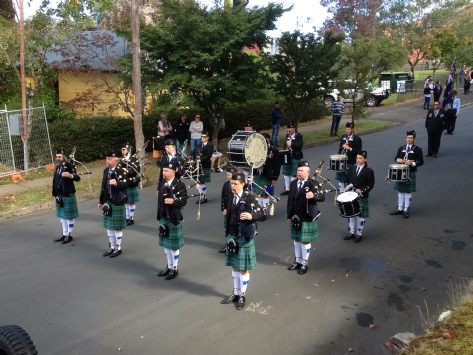 The Blue Mountains Pipe Band was established in the mid-1990's as a pipe band based in the Blue Mountains region of NSW. The band has played for various street parades in locations throughout the area including Australia Day at Glenbrook and Springwood, Foundation Day and Festival Day at Springwood, Leura Festival, and Blackheath's Rhododendron Festival.
The band has also competed at various pipe band competitions at Bathurst, the Illawarra, Southern Highlands, and Castle Hill, with some excellent results.
The Pipe Major is Gordon Maxwell who is experienced in all levels of competition having competed in bands ranging from Grade 4 to Grade 1. The Drum Sergeant is Malcolm Ridgley who has also competed in bands in all four pipe band grades.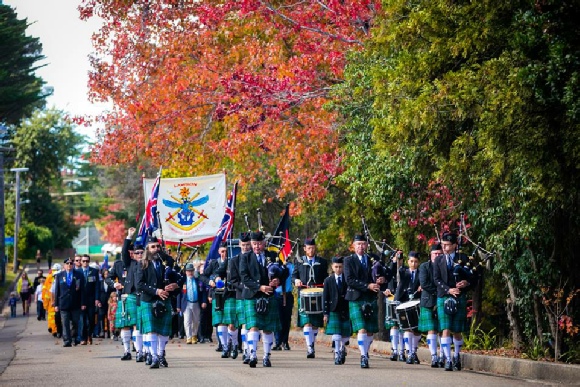 The band currently practises at Warrimoo Citizens Hall on Eley Hawkins Drive at Warrimoo. Practise is held on Friday evenings with learners from 7:30 pm until 8:00 pm and more experienced players from 8:00 pm until 10:00 pm. It is free to come along to learn for both pipes and drums, however learners are expected to commit to practise at home and to be regular at band practise. There are also currently no band fees for members, with the costs being offset by attendance at various paid functions. Band uniforms are supplied, with the only cost being for your own white shirt and socks (hose). Pipers have to supply their own bagpipes, however the band does supply drums for the drummers.
For more information please contact:
Pipe Major Gordon Maxwell - 0414 980 726
Drum Sergeant Mal Ridgley - 0421 335 074
Band secretary - bmpb_secretary@bmpb.com.au
We can supply a solo piper or a full band for various functions - parties, weddings, fetes, street parades, etc. See the contacts above for more information.
The band wish to express our appreciation to the Blue Mountains City Council for their gift of a grant to assist with the payment of the hall hire charges for 2016.
Band Happenings:
The band will be playing in July for Yulefest at the Carrington Hotel in Katoomba. The dates that we will be playing are as follows:
Saturday 1st July, 15th July, 29th July. We are scheduled to play from 7:30pm to 7:45 pm.
Sunday 30th July, playing from 7:40 pm to 7:55 pm.
If you wish to hire the band please contact the secretary, Gordon, or Mal.